So one of my knit-night friends keeps dropping these not-so-subtle hints about seeing the finished socks. And since I've sent them to their new home already, pictures will have to do. While I'm at it, I decided to include a couple other recently finished projects too. Hopefully there is some fun eye candy for you here.
I'll start with the test-knits for
Kollage Yarns
(and Barb, the designer). I just finished two sets of fingerless gloves in 1/2 N 1/2, which is a half wool, half milk protein yarn. I adore this yarn - it is nice and soft, with great stitch definition. It feels fantastic on my hands! Forgive the self-photography. I'm getting better, but there are only so many angles you can get of your own hand.
These are her Petit Feather & Fan Fingerless Gloves. A quick, fun knit. And who doesn't love purple anyway?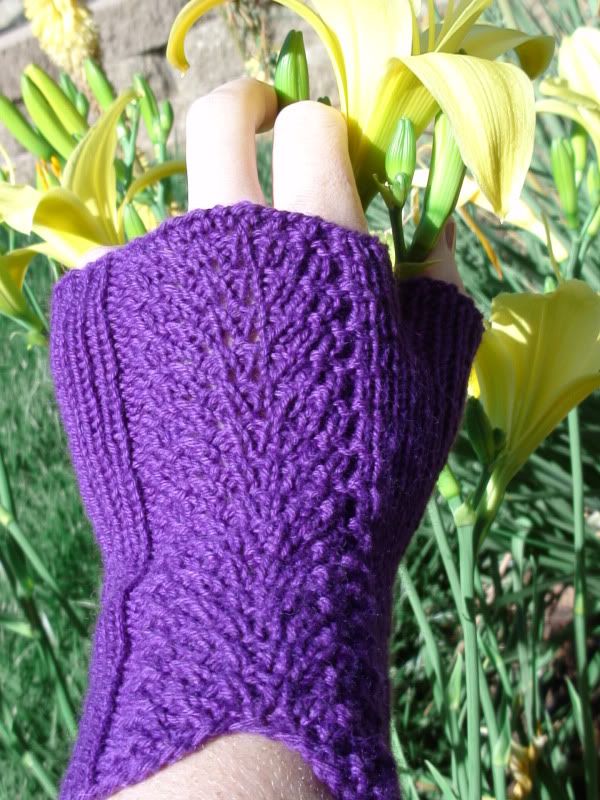 Next are the Spiral Rib & Ruffles Fingerless Gloves. There is a funny story about these gloves. A while ago, I knit a pair of socks in this stitch pattern. Made a mental note to never make anything with this stitch pattern again. About a year later, I was leafing through my book, and decided on this stitch pattern, because it's so pretty. Made an actual note to myself in the book to never make anything with this stitch pattern again. So, along comes this test-knit, and I mentally groaned (OK, so maybe I actually groaned out loud hehe) to be, yet again, knitting this stitch pattern. I don't know if it was the yarn, or maybe the slightly larger needles (at least over what I used previously) but I didn't hate the stitch pattern this time. And I even kind of like the ruffle! It was a fun ruffle to make.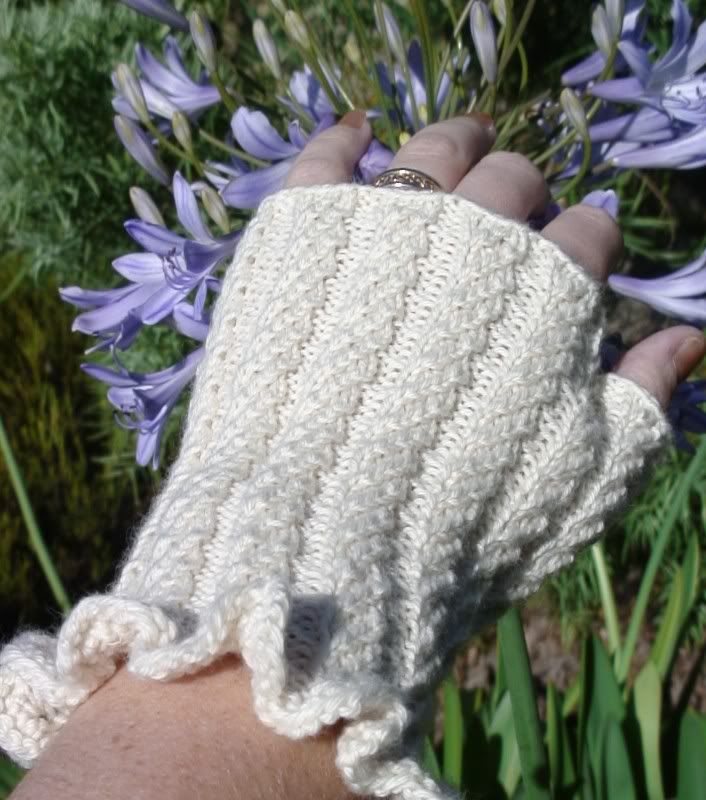 And now, the socks. These are Toe-Up Bayerische, which seems to have vanished shortly after I printed up the pattern. I even had a lot of issues getting to the original Bayerische pattern, by Eunny Jang, when I was looking for further information as I attempted to size up a bit. Boy am I glad I printed it all up when I did! I used Shibui Knits Sock yarn, in Chinese Red. These were fun, even though I just finished a twisted stitch cabled sock, and have another in the works. I guess I'm just a glutton, but these patterns are so PRETTY! This one was a little hard to fathom. My typical socks are 65-75, maybe 80 stitches. These were more like 100! And according to the pattern, were supposed to fit something like a 7 inch foot circumference. I think it fits more like an 8+ inch circ, but I was still amazed that 100 stitches at 9-10 spi pulled in to 8 inches! J nearly stole them, before I shipped them off to my swap partner in Minnesota.