I'm busily preparing for my trip. I leave tomorrow for
Sock Summit
. For those who don't know what it is, I'm sure you won't understand ;) It's a sock knitting convention. With classes taught by famous (mostly sock) knitters, and a marketplace full of fun sock knitting goodies. I am taking one class, and plan to spend money at the marketplace. I am having dinner with some of my online friends (and hopefully my favorite
Yarnista
will be there too!) - How nice to put faces and voices with all those posts we've shared online! I am beyond excited. Like a kid at Christmas - you know: up at 4 am watching the window for a glimmer of the sun so that I can go in and tell my parents the sun is up so can we go see what Santa brought now please but what do you mean I have to wait until the clock says 6 but I can see the sun no it is not just a reflection of the moon on the snow I've been watching and it is definitely brighter than it was an hour ago come on why not - My flight leaves tomorrow around 6. PM. I hope I make it without annying the whole family!
I am meeting my (non-knitting) sister there. We are making a girls' weekend out of it. No kids, no J, just me and my sis.
This is a photo of the yarn that I made just to take with me to SS. It is the "Labor of Love" that I mentioned in my last post. It is now all caked up and ready to go in my carry-on (no way I'm entrusting it to the baggage handlers!) For those that are interested in the specifics, after finishing it was about 430 yards of 17 wpi, Targhee from Time to Knit (Etsy seller)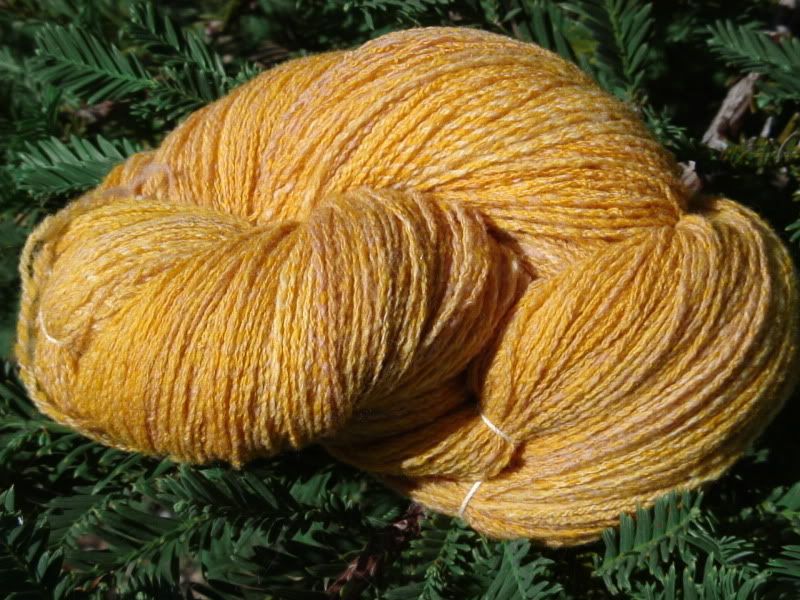 Hopefully I'll have lots to gush about after my return!