Wow! January came and went, along with most of February!! We had two deaths in the family in January, and it's amazing how time vanishes. Things are starting to feel like normal again.
The January Challenge Soap didn't work out. Well, the soap is fine, it smells great and lathers perfectly. You just can't really see the swirl. I didn't enter that one. I scented it with a combination of French Vanilla fragrance oil and Lavender essential oil.
February challenge came, and I was happy with my soap for this one. I was all ready to upload my photo for the contest, and thought I'd get it done. Then I got the email saying the voting had started. Oops! At least it's pretty! I used one of the scents remaining from my candle days (I knew there was a reason I made sure those fragrance oils were also skin safe!!) called Casaba Mist. It's kind of a light floral with a hint of melon in the background. It must have a little vanilla in it too, because it discolored to a light tan (I didn't put any fragrance in the swirl part, so that I could work with the soap and not worry about color issues)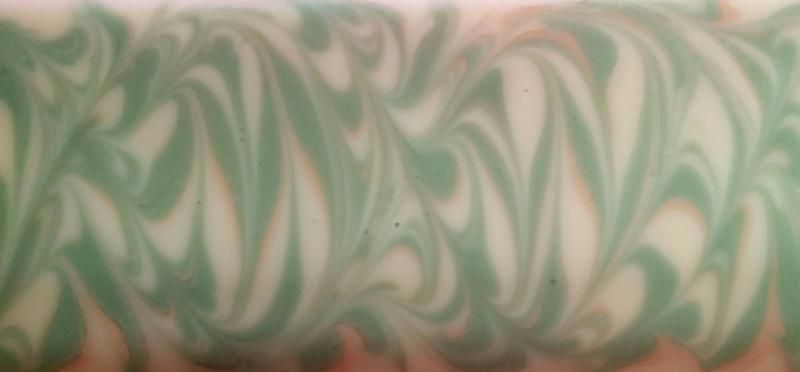 I joined a soap swap. It's the kind where I make a batch of soap and send 10 bars to Bramble Berry. They will then pack up a box of 10 soaps that aren't mine and return it to me! I have some new fragrance oils on the way from their Soap Club, and will be using one of those (
Ginger Patchouli
) for the swap. Now to decide what to do with color to make it pop!
Speaking of Bramble Berry, they just put out a call for the Spring S.O.A.P Panel. The panel gets to test new fragrances and give feedback that helps BB decide what new fragrance oils to carry. I think it sounds like a ton of fun, and would love to be chosen to participate. They ask what your favorite product is from BB. That's a toughie! I love their selection of molds (and
just ordered one
from them), but I think my very favorite so far has been trying new
fragrances
. It seems like every order I add a fragrance oil "because I might as well, if I'm already paying for shipping"