Yippee! I finally got that yarn dyed! And I didn't like it so much. Then I re-skeined it. I like it a lot better this way. Even J likes it - a lot. S said, "Mommy, this yarn isn't knit yet? Why did you not knit it yet? Knit it!" Hehehe. I hope my swap partner likes it as much. I call the colorway Berry Burst (yeah, so original. . . ) So the yarn on the top is wool/bamboo/nylon blend; the yarn on the bottom is a mystery wool I received in a "dye your own sock" kit.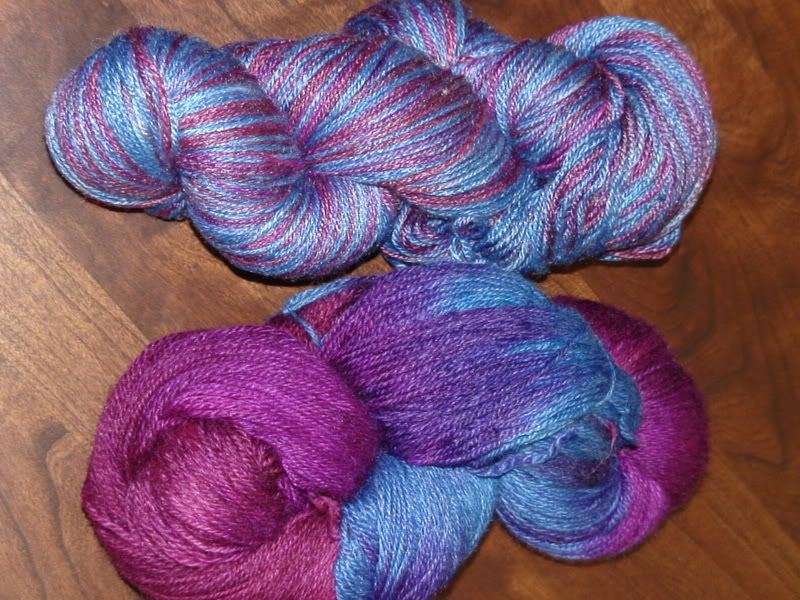 I got my package from the aforementioned swap this weekend. Wow! It's awesome!
So here is the package as it looked when I opened the box: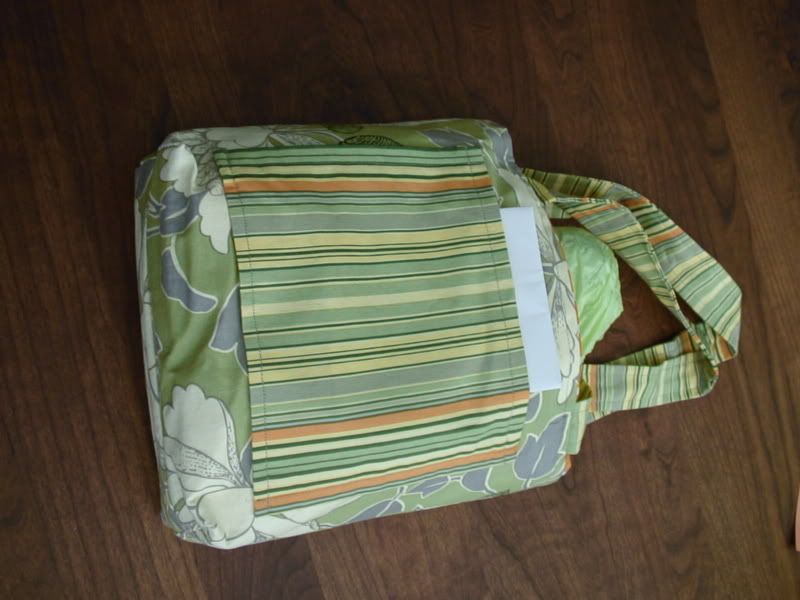 This bag is so perfect, I can hardly describe it. . .When I was shopping for fabric for my partner's bag, I saw a whole line in these colors, and nearly bought a few to make something for myself!! Not my "normal" colors, but for some reason in this combination, they really call to me. . . Perfect choice! And totally the style I use for MY project bags (as my partner was a bit worried it wasn't a typical project bag . . . )
Now for the beyond amazing goodies inside: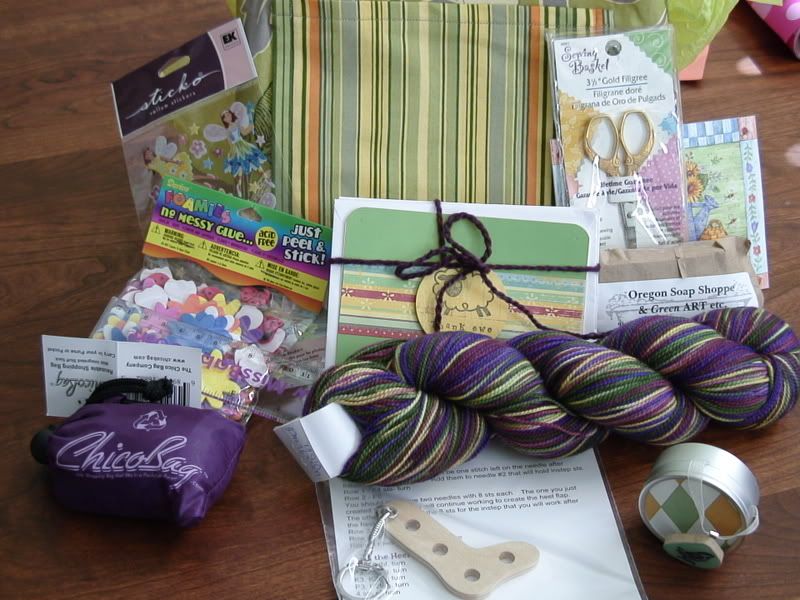 They include Miss Babs Yummy sock yarn - which truly is yummy, a cute sock blocker keychain, pretty little necklace with a bird (in a cute tin which will hold incidentals in my knitting bag), some stickers for S, a chicobag (love 'em!), some handmade notecards, handmade soap, pretty scissors, and a nice ruler for the project bag too! Whew, I got spoiled on this one :)
The bug hit me Friday. It was just a little tickle in the back of my throat, and then all of a sudden it was a hacking cough that sucked the energy right out of me. Thankfully, J was home this weekend to take some of the load off. I got to take a couple naps and pretty much just be a slug. It was a nice relief, except for the fact that I really couldn't enjoy it through the fog of this cold! Feeling better today, though still tired.
I cast on my next sock project, while I am waiting for the yarn to get here for my next test-knit for Anastasia and Kollage . . . I cast on
Mirabella
with my precious DIC Smooshy in the Don't Be Blue colorway from
The Loopy Ewe
. I've been looking for a yarn that swatched up to the right gauge for this pattern, and I finally found it, after Nisha (from Ravelry) inspired me to finally cast something on with that Smooshy. It's just yarn, right? Right? Hehehe.